I finally got around to watching the video of Mo'Nique and her husband talking about their open marriage.
If you missed it, Mo'Nique and her husband have an open marriage. She said that it's based around honesty and the fact that if she feels the desire to be with another man outside of their marriage, it's ok. He's ok with it. He doesn't feel like her being intimate with other men is enough to keep him from loving her and that she has the freedom to be who she is and with whom she desires. They've likely discussed it before, but I just caught wind of the latest round of conversation.
What is this open marriage of which you speak? An open marriage is defined as "a marriage or relationship in which both partners agree that each may have sexual relations with others." It's also known as polyamory.
To be honest, I was taken aback! But I can't answer for anyone else and what they do in their home…
[tweetthis display_mode="box"]But then I thought, having an open marriage is not such a bad idea… beingyoked.com[/tweetthis]
But then I thought…you know, having an open marriage is not such a bad idea. This is why I'm making a case for it…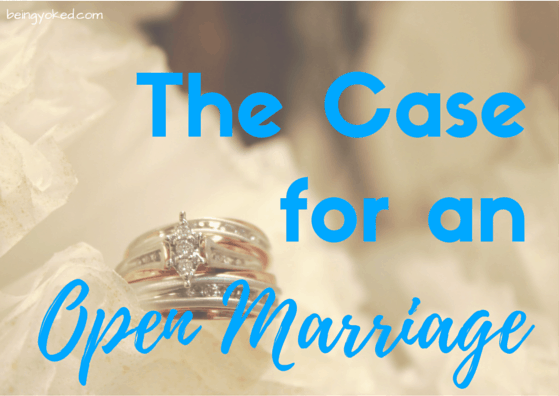 When we enter into a covenant before God and with another person, we become as one flesh. That means that we are walking alongside another person, hopefully toward the same or similar goals and with the same intentions. We are still individuals by design, but we should be operating on a open and honest scale, sharing our hopes, dreams, fears and insecurities. My relationship is an open marriage in that:
Our finances are open. We have a joint bank account. That was something that we decided on before we even got engaged. We make separate incomes and for a while, I made more than my husband. At one point, he wasn't working outside of the home and we're currently in the season of our marriage where I'm not working outside of the home. Who brings the most moolah into our home is irrelevant to our marriage, but how much money is being brought in is important and should be discussed.  Joint accounts don't work for everyone but work that out before you walk down the aisle. The day after the wedding is not when you should find out that all of your funds will be transferred.
Our marital bed is open…to us! Hebrews 13:4 says "Let marriage be had in honor among all, and let the bed be undefiled: for fornicators and adulterers God will judge." Don't let your marital bed be made dirty. Now that doesn't mean that you and your better half can't or shouldn't take a trip to the specialty store. Go wild…literally! But only if you're both into that sort of thing. "The husband should fulfill his marital duty to his wife, and likewise the wife to her husband. The wife does not have authority over her own body, but the husband. Likewise the husband does not have authority over his own body, but the wife. Do not deprive one another, except by mutual consent for a limited time, so you may devote yourselves to prayer. Then come together again, so that Satan will not tempt you through your lack of self-control… " {1 Cor 7:3-5} Your sexuality is something that should be discussed. One partner may be more experienced than the other. One person may feel secure in monotony and won't have the first clue about how to spice things up. Talk about it! For all intents and purposes, this is the person that you are promised to until you check out of the game of life. Have the conversation about what you like, when you like and how much you like. It's kinda important. If you're not yet married, take a cold shower after that convo!
Our conversations are open. My hubby and I talk all day, every day. It's not changed for almost 10 years. When I was working in corporate America, we'd be texting, emailing, IM'ing and sometimes calling simultaneously. I'm not even joking about that… You'd think that we'd get tired of talking to each other lol but we always had something to talk about. Sometimes something really important or urgent {hence the phone call in the middle of an email} or just shooting the breeze while we take a break from work. He's not even a big talker but he responds to me…and I can always find something to talk about! Staying in constant communication is vital to the health of your relationship. Whether "constant" is determined to be once a day or every 2 hours, make sure that you always keep the lines of communication open.
Our friendship is open. My husband is truly my best friend. We can go to each other about anything. Saying "we need to talk" doesn't send him into a panic {anymore} but he sees it as something is important and I need his attention. Being able to go to each other about any and every thing is important in protecting the sanctity of your relationship. There should be no need to find a safe place or reassurance in a person outside of your relationship. Your heart and home should be a refuge and place of solace for each other. That starts in the foundation of a strong friendship. Leave and cleave your parents…and associates, friends, siblings, extra family members…
Are you in an open relationship or marriage? If not, maybe you should be…