Before you know it, the holidays will be here! I love gift-giving but it's not always the easiest thing to do when you're trying to find just the right thing. I've gotten wiser and learned that people receive love in different ways, and giving gifts can be an extension of that. If your gift recipient's love language is Words of Affirmation, it can be a little tricky to find something they will appreciate. Here are Words of Affirmation gift ideas that will be kind to your wallet under $20.
The Words of Affirmation love language is one in which the person being affirmed, or positively lifted up, needs to hear words of appreciation and gratitude. If your partner expresses Words of Affirmation as their love language, you have to sincerely tell them that you love and appreciate them.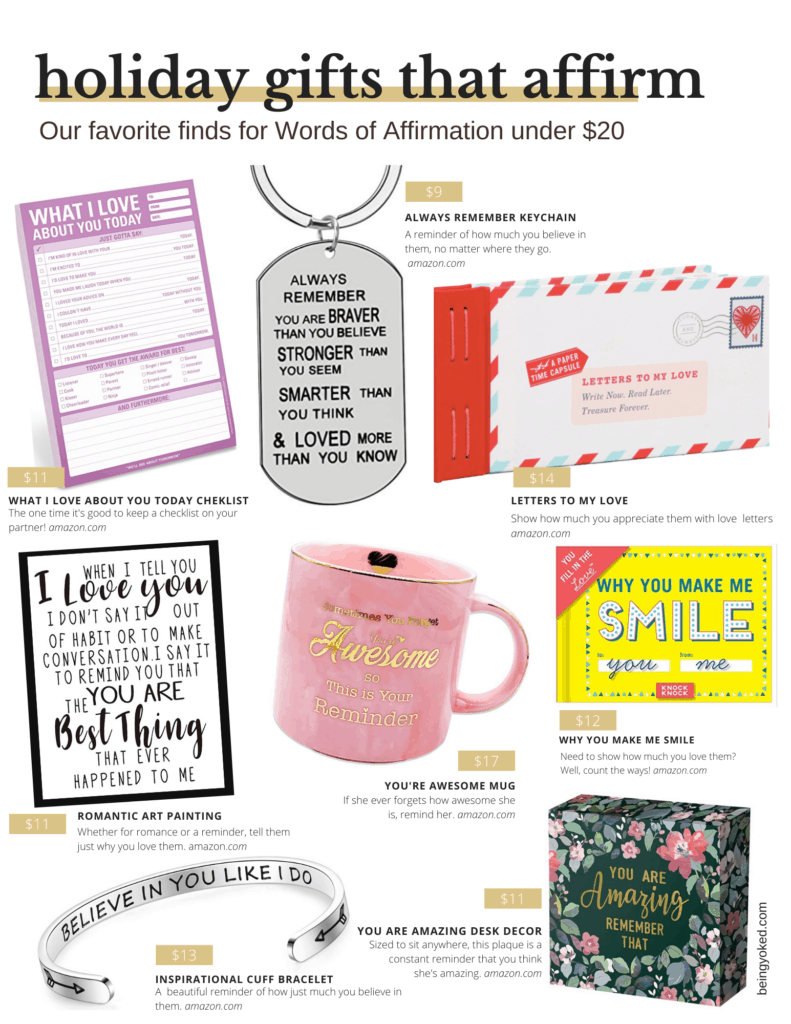 What I love About You Today Checklist
It's a fun and funny way to let your significant other know just what it is that you love about them – every single day! Each notepad contains 60 sheets and you can buy several to keep the love notes flowing year 'round!
Find something to be thankful for every day to keep the love and romance fresh in your relationship! Get it here.
Cost: $10.44
"Always Remember" Keychain
Give the gift of a more permanent reminder of how much you love them! This inspiring memento is available allows the receiver to take these encouraging words with them, wherever they go. Get it here.
Cost: $8.69
Letters to My Love
The art of the love letter has been almost completely lost! Change it up this year and bring this sweet gesture back. Write a love letter and mail it to your spouse! They will truly appreciate the time and effort that you take when you put pen to paper to express how much you love and appreciate them.
Send them as part of a 12 Days of Christmas campaign or space it out over a few months to keep the words of affirmation going!
No matter when you send the letter, it will be truly appreciated and affirm your partner. Get it here.
Cost: $11.59.
Romantic Art Painting
Whether you're trying to create a bit of romance – or keep the flame going – this canvas print is a perfect idea. Give it as a single, intentional present, or use it as a beginning piece with which to create a space to surround your space with love.
Find the unframed print here.
"You're Awesome…" Mug
Start each day off with the words you need to remember your awesomeness! This ceramic mug puts the power to uplift right in the palms of the recipient's hands. Grab yours here.
Cost: $16.99
Why You Make Me Smile
"Fill in the love" with this adorable book of sunshine! Affirm your lover and you love for them with all of the ways that they bring sunshine into your life. There's something special about knowing the specific ways that they bring joy into your life! Get a copy for them here.
Cost: $10.72.
Inspirational Cuff Bracelet
A beautiful piece of jewelry that is working all the time to remind the wearer just how incredible they are. Needing words of encouragement, this bangle is a constant companion of appreciation. Find this stunning gift here.
Cost: $12.99
You Are Amazing Desk/Wall Decor
At 8″ x 8″, this beautiful floral decor works on a wall or desktop. A simple message will convey the reminder that they need to live each day knowing they're amazing. Find the floral version here or a gender-neutral version here.
Cost: Floral $10.99 or White/Wood – $14.99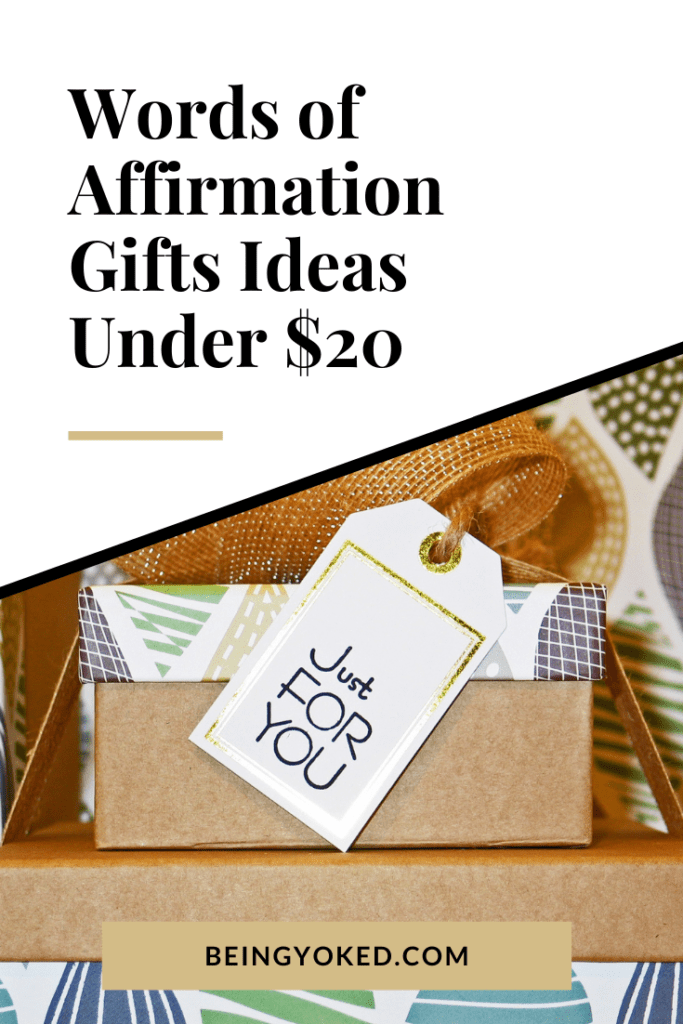 If you need more ideas to get for your Words of Affirmation receiver, check out this list of 100 Gift Ideas Perfect for Your Spouse's Love Language.
As an Amazon Affiliate, Yoked may earn commissions from qualified purchases through Amazon links. It won't cost you anything extra!