I'm not sure where to begin, but I think the declaration that this is a really good drink would be a fine place to start. Race and political affiliation aside, Vice President Kamala Harris is shattering ceilings for women and girls all over the place. And this drink is the modern woman's toast to Kamala Harris.
If you've missed the headlines, California Senator Kamala Harris is the newly-elected Vice President of the United States. Not only is she the first woman to hold the position, but she is the first person of color (male or female) to hold the position. Her mother is Indian and her father is Jamaican. The daughter of immigrants, she is working and leading the country as a representative for the Asian American and African American communities. As President Biden states, she is "first woman, first Black woman, (the) first woman of South Asian descent and (the) first daughter of immigrants ever elected to national office in this country."
As someone who has had a lifetime of opportunities pass me by because of the color of my skin, I could not be more proud to celebrate this accomplishment.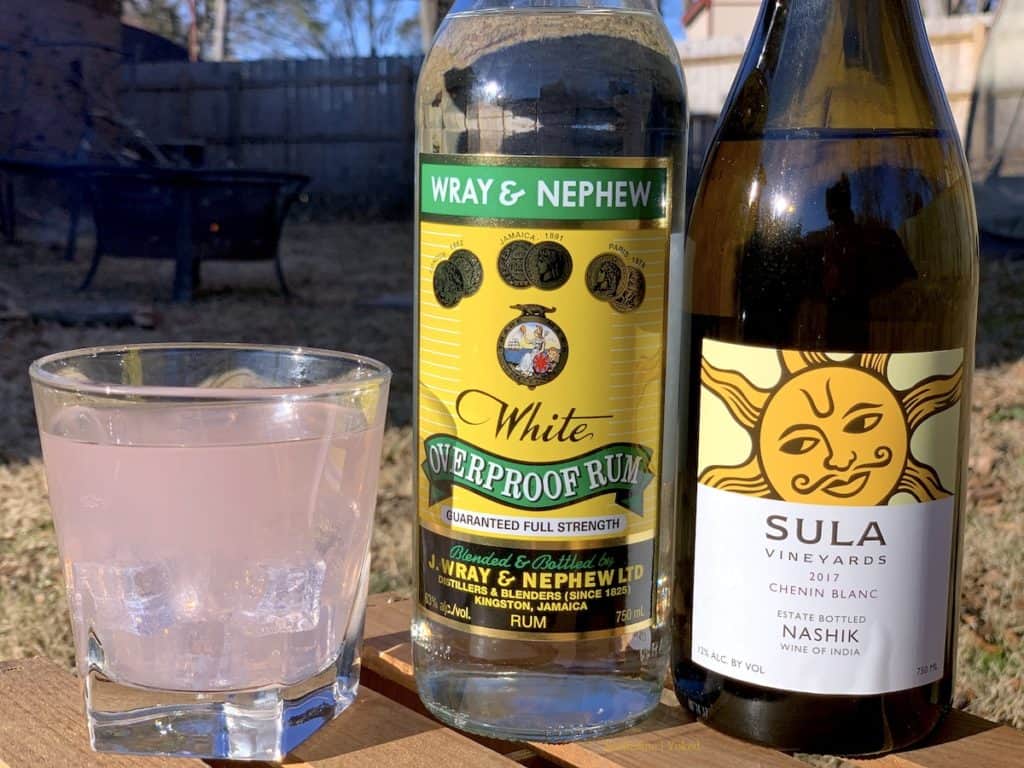 A Modern Woman's Toast
This drink embodies what I think of when I look at her: she's so pretty but don't let the cute looks fool you…she's stronger than you think!
I don't need to go into all of the details of VP Harris' long legal and political career. Just know that she is a phenom. Graduate of Howard University and a member of Alpha Kappa Alpha Sorority, Inc. the pink is just for her. We celebrate her and what she represents: the Vice Presidential is made from spirits from her familial homelands: India and Jamaica.
The Jamaican rum is Wray & Nephew White Overproof Rum. It's 63% alcohol (126 proof!) There is an incredible history of Jamaican rum and how slaves are responsible for putting rum on the world map. Somewhere in my search, I read that this rum would be sufficient to start a car.
They weren't lying.
The wine is a Chenin Blanc from the Sula Vineyards – Nashik Estates in India. There were other wines that I wanted to try. Most of India's wines are still pretty exclusive to the country; apparently, there aren't a lot of them available in the US. It's the worst-case scenario. I will be forced to travel to India to try more wines from the region.
Darn it. I have to visit another country. Give me a moment while I make some crocodile tears.
Cheers to Girls Who Run the World
I'll admit that it's easier for me to be excited about Vice President Harris. I voted for her, with the same sentiment that I felt with President Obama. My vote for them wasn't because of their race but because of what they represent.
A vote for them means that people of color are seen as more than just a stereotype or statistic. That a person of color can have the opportunity to serve the country in her highest offices. Not that long ago, women were the property of men and Africans were the property of others. Only 2 generations removed from the Civil Rights struggle and barely 3 generations removed from slavery, the fight is far from over.
Consider what we've fought against and what we have to continue to fight. In that, I am constantly reminded of the story of Esther.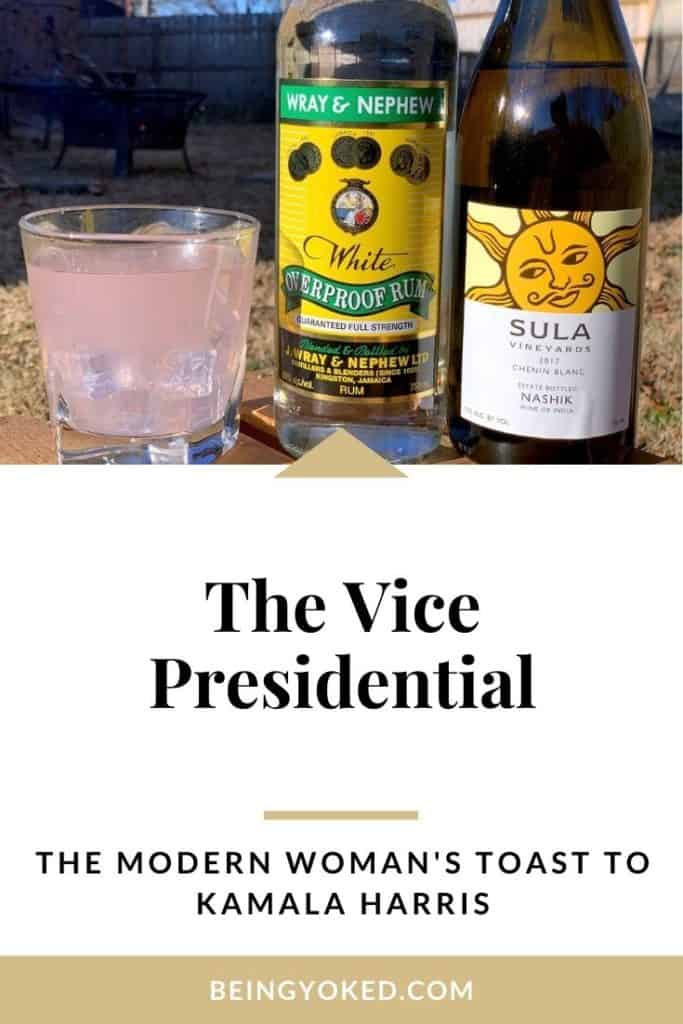 Women Are Made to Do This
In conversation with a friend the other day, we were lamenting how all of our civil rights heroes were dying. As we get older, we truly understand the frailty of life and how our existence is a mere whisper in the grand scheme of things. In our sorrow, we had the realization that we are living our personal Esther stories.
Mordecai reminds Esther that she was created for a purpose, that she had come into her royal position for a reason.
She shows no joy about it. She didn't want to be there.
At the end of the day, she didn't have a choice. She was in her position for a reason.
And that's where we are. We are where we are in our lives for a reason. Perhaps we were created for a time such as this.
To be in a position to lead the country.
To be in a position to support the woman who is walking in so many "firsts."
Just as the way was paved for her, she's paving the way for so many other women and girls.
Cheers to us all!
Recipe for the Vice Presidential
*Disclaimer* This recipe was created with the wine and rum available in my area. Feel free to substitute the ingredients with something local. Just don't mix light and dark!
Yield: 1 Drink/Serving
The Vice Presidential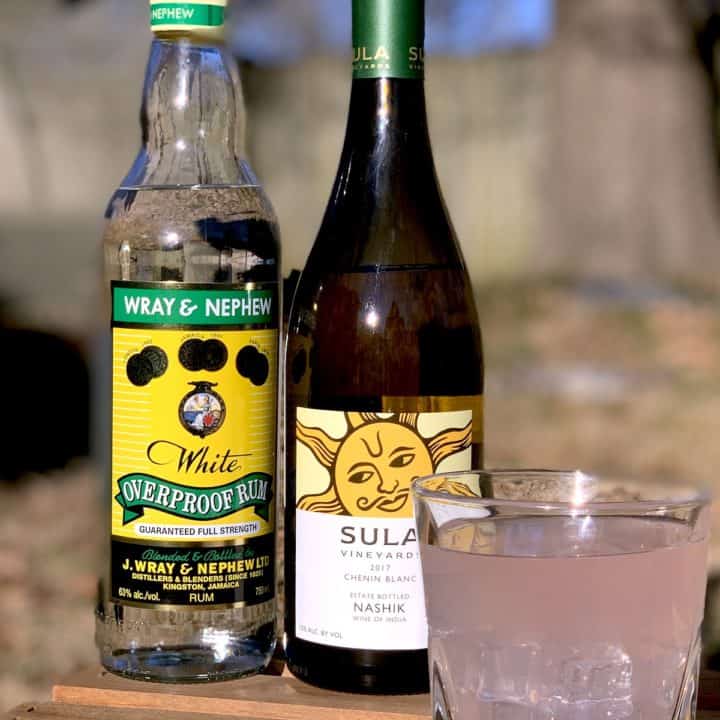 This is a modern woman's toast to Vice President Kamala Harris.
Ingredients
Sula Vineyards Chenin Blanc wine
Wray & Nephew White Overproof rum
Minute Maid Pink Lemonade drink
Coconut flavoring
Ice
Instructions
Add ice to glass of choice. (I used a heavy whiskey glass.)
Add half a shot of the rum. A full shot is for stomachs of steel...Trust me on this one.
Add 2 shots of wine.
Add in a capful of coconut flavoring (equal to 1/8 tsp.)
Top off the mixture with pink lemonade.
Stir and enjoy!