Personally, I'm a coffee lover and have to work to understand people who aren't? I mean, how can you not like coffee? All jokes aside, I do enjoy a really good cup of tea and enjoy both new and traditional flavors. The artistry of tea making and consumption is definitely to be appreciated. It's truly one of the most beautifully serene way to appeal to the palette. Only fitting that this drink originated in China, a culture known for ceremony and respect. For the people in your life who really enjoy a good cup, these are some of the best gift ideas for tea lovers under $25.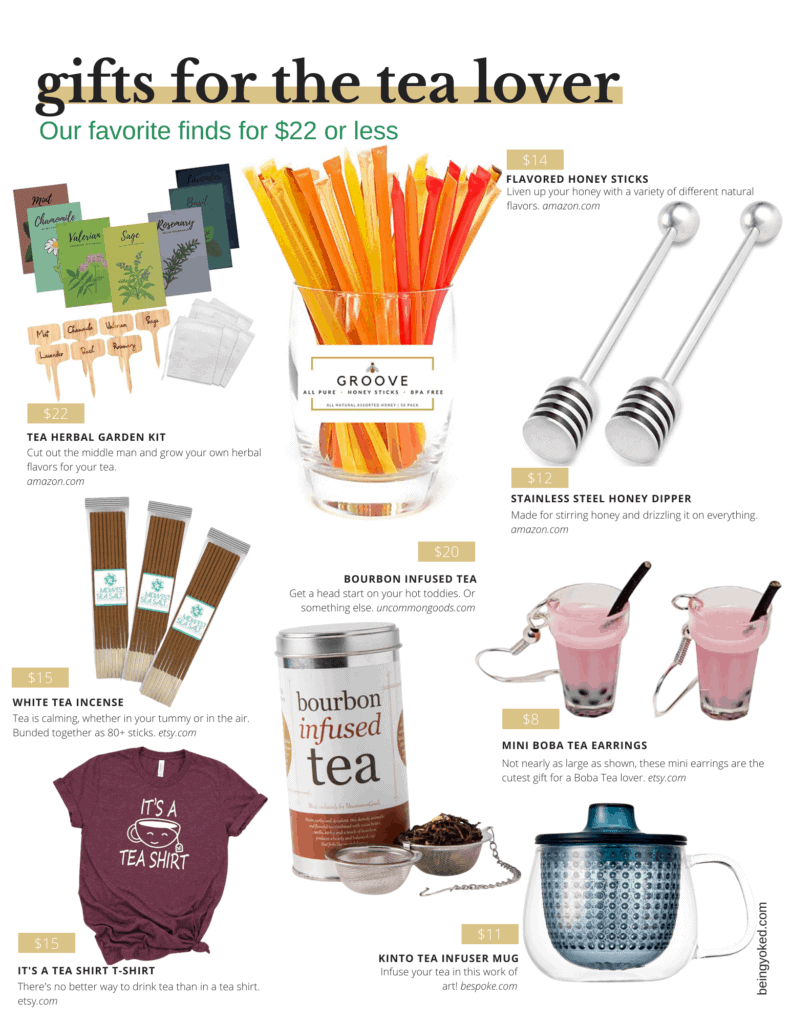 Tea Herbal Garden Kit
Cut out the middle man and grow your own tea flavors! This kit comes with 7 different seed types to make your own tea at home. Never worry about having to restock your faves when you can just get them from your garden. It also comes with handwoven tea bags for sustainable steeping and garden picks to identify the herbs. Find it here for $21.99.
Groove Flavored Honey Sticks
Wanting to try a new flavor but afraid of committing to an entire box? Try this flavor sample pack. Made of honey and natural flavors, the collection includes Cinnamon, Clover, Lemon, Orange, and Wildflower. Find it here. Cost: $13.99.
Stainless Steel Honey Dipper
Based on the traditional wooden honey stir stick, this modern upgrade is made of stainless steel. Made to fit inside of honey pot jars, it comes in a set of 2. I'm not saying that you could keep one for yourself, but I'm not not saying it either. Find it here. Cost: $11.99.
Bourbon Infused tea
Whether you're getting a head start on your hot toddy recipe for the cold season or winding down with a different kind of nightcap, this bourbon-infused tea is definitely worth experiencing. Find it at Uncommon Goods. Cost: $20. (This is a loose tea, so remember to grab a tea infuser.)
Mini Boba Tea Earrings
Let's face it…Boba tea is sweeping the nation! We all know someone who loves it the most. How perfectly cute would it be to get them a pair of these mini Boba tea earrings?! Available in different "flavors," these earrings are handmade and absolutely delicious to the eye! Find them on Etsy. Cost: $7.33.
It's a Tea Shirt T-shirt
Love a good pun? Enjoy a good cup of tea in your It's a Tea Shirt t-shirt. Available in many colors and sizes, this gift is absolutely fitting for a tea lover. Find it on Etsy. Cost: $15-18. (prices dependent upon sizing)
Kinto Unitea Infuser Mug
Meaning "With money" this beautiful personal tea infuser only looks like you have expensive tastes. Created as a blending of art and function, this Infuser Mug will allow you to enjoy your tea while it continues to steep, keeping the flavor bold. Available at Bespoke.com. Cost: $17.
Want to splurge?
If you want a gift option that is a little higher on the price range but won't put you into debt, consider these beautiful pieces of art: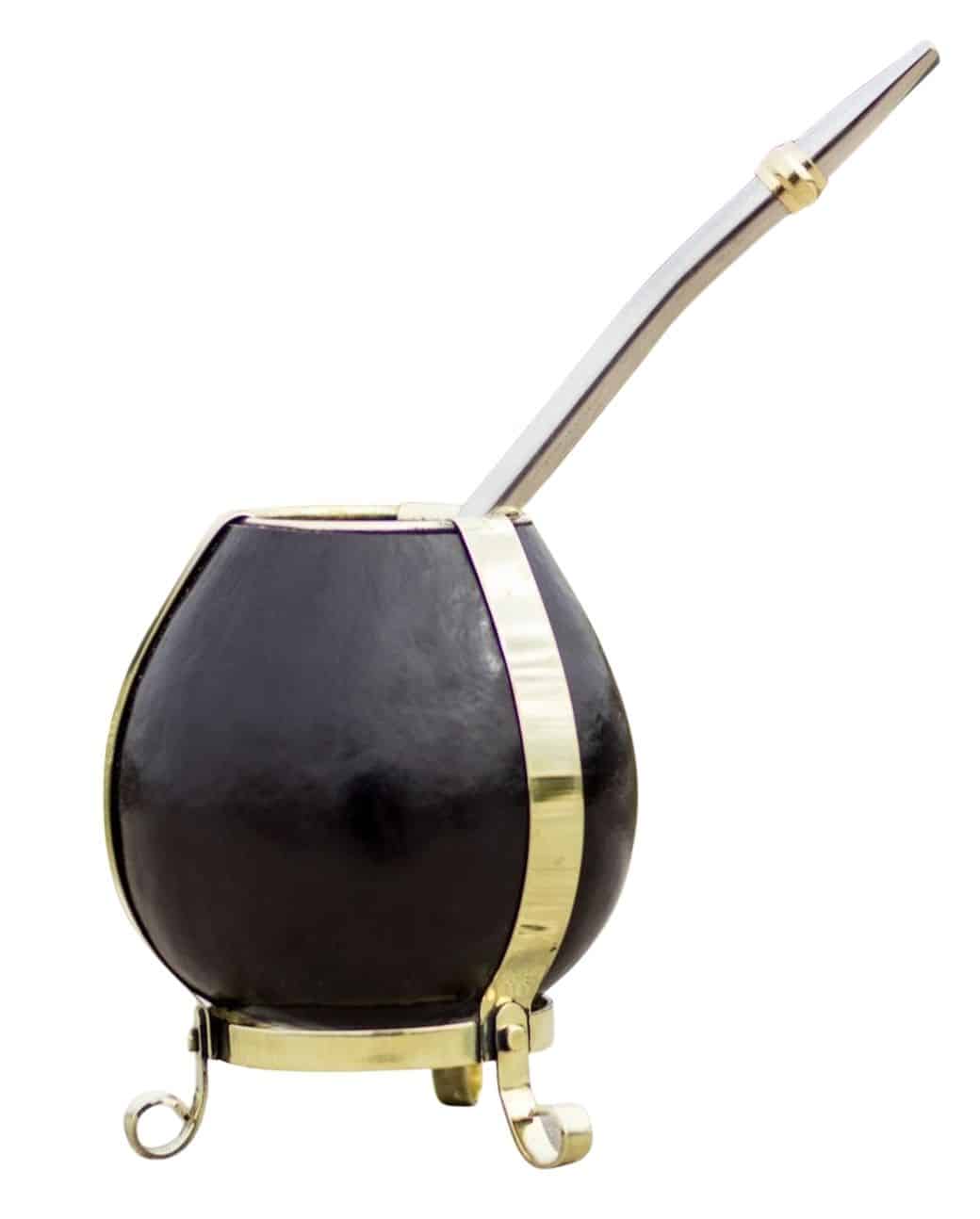 Soul Maté Gourd
This beautiful gourd is hand-carved and hand-painted for the stunning enjoyment of Yerba Mate tea. Yerba Mate is a tea from the Indigenous peoples of South America. It is described as having " the strength of coffee, the health benefits of tea, and the joy of chocolate." In addition to antioxidants found in tea in general, most drinkers enjoy it for the health benefits of mental and physical energy boosts, infection protection, weight loss, and more.
Original connoisseurs drank the tea from carved gourds. Soul Maté Yerba Co. has taken the natural gourds and turned them into minimalist works of art, all while preserving the original experience of enjoying the tea. This set comes with the gourd, a Bombilla (strainer/straw), and a 4oz bag of Yerba Maté tea. Cost: $49.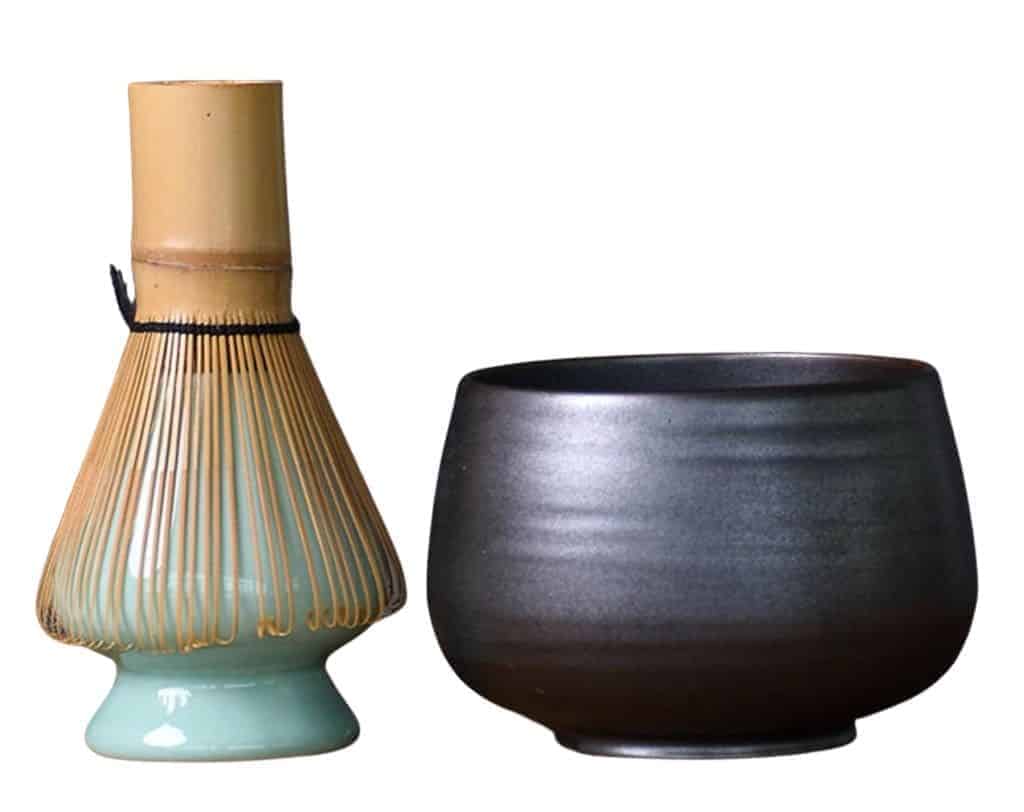 Matcha Tea Brew Set
Matcha tea is a green tea that comes in powder form. It has tremendous health properties, which include cancer-fighting and boosting brain function. Typical preparation involves using a whisk to blend it. So, can you use a plain whisk to make the tea? Of course. But is it anywhere as stunning as the whisk set? Not even close.
For a matcha tea drinker or someone who wants/needs to start drinking it for health benefits, this gift set is simply stunning. And for such an inexpensive price, this is a beautiful gift and gesture to give someone you love. The gift set includes the mixing bowl, bamboo whisk, and ceramic whisk holder. Find it here on Etsy. Cost: $29.
As an Amazon Affiliate, Yoked may earn commissions from qualified purchases through Amazon links. It won't cost you anything extra!
Have additional ideas for people who love tea? Let me know in the comments below!