Coffee has been our staple to get us up and keep us moving. Especially this year, we've needed every bit of help we can get to stay on track! For coffee addicts lovers, we can be a bit particular and choosy when it comes to what we drink and how we do it. Additionally, finding a gift that we don't already have can be tricky too. If you want to give your loved ones a gift that honors their commitment to being caffeinated, we have an incredible list of things to choose from. Read on to discover must-have coffee gifts under $25 that they will absolutely love!
Personally, I love to try coffees from around the world. Traveling internationally to find it, or even subscribing to a coffee club can be a bit out of the budget. These gift ideas won't be too hard on the wallet; they also support great causes and small- and minority-owned business owners. These gift ideas are so budget-friendly that you can even gift your special someone with an entire "handmade with love" gift basket!
What you need to make a gift basket:
basket or bucket
cellophane wrap or bag
bow/ribbon
gift ideas
Most of these items can be found at your local Dollar Tree or other dollar store. Once you have the essentials for creating the basket, you'll need some awesome ideas to put in it for an unforgettable Christmas gift for the coffee lover in your life!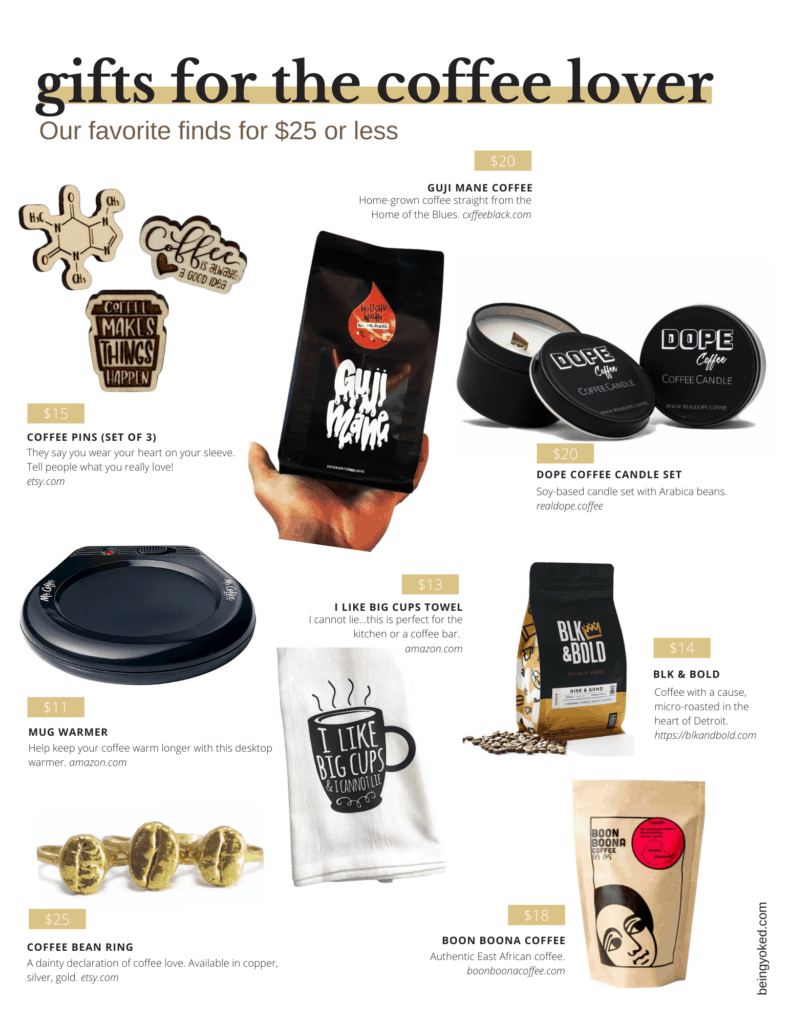 Coffee-Inspired Lapel Pins
They say you wear your heart on your sleeve, so why not do the same for your love of coffee? These adorable coffee-inspired lapel pins, created by Pew Pew Lasercraft, come in a set of 3. Find them here. Cost: $15
Guji Mane Coffee
A play on local Memphis lingo, this brand of coffee encompasses what it means to be Memphis. Roasted and produced by a local couple, Cxffeeblack is a venture, with specific social implications, dedicated to reclaiming the black history of coffee and remain its black future. Find this Ethiopian bean (whole bean or ground) here. Cost: $20.
Dope Coffee
For those of us who LOVE the smell of coffee, this Dope Coffee candle is a great option for keeping the aroma lingering in the air. Just like love. These soy candles come in a set of 2. Cost: $20.
Mug Warmer
Whether in the office or at home, sometimes we get too busy to finish our coffee in one sitting. And we hate to waste coffee. This warmer will be the perfect accessory to support round-the-clock caffeination. Cost: $10.99. Find it here.
I Like Big Cups Towel
This funny towel is perfect for a coffee-lover. It can be used as a dish towel or as an oversized napkin holder. Find it on Amazon. Cost: $13.
Blk & Bold Coffee
Blk & Bold is a taste-great coffee with a feel-good cause. Based in Detroit, BLK & Bold pledges 5% of its profits to initiatives aligned to sustaining youth programming, enhancing workforce development, and eradicating youth homelessness. Get it directly from the source or find it in your local Target store. Cost: $14.
Coffee Bean Ring
It's a dainty declaration of coffee love! Available in copper, silver, and gold from Wilderness Wares, you can find it here. Cost: $25.
Boon Boona Coffee
Authentic East African coffee with a purpose, Boon Boona Coffee has formed sustainable relationships with producers, exporters, and importers from Ethiopia, Rwanda, Burundi, Kenya to bring the continent's coffee to the US through Seattle. Cost: $18. Find it here.
But wait…there's more!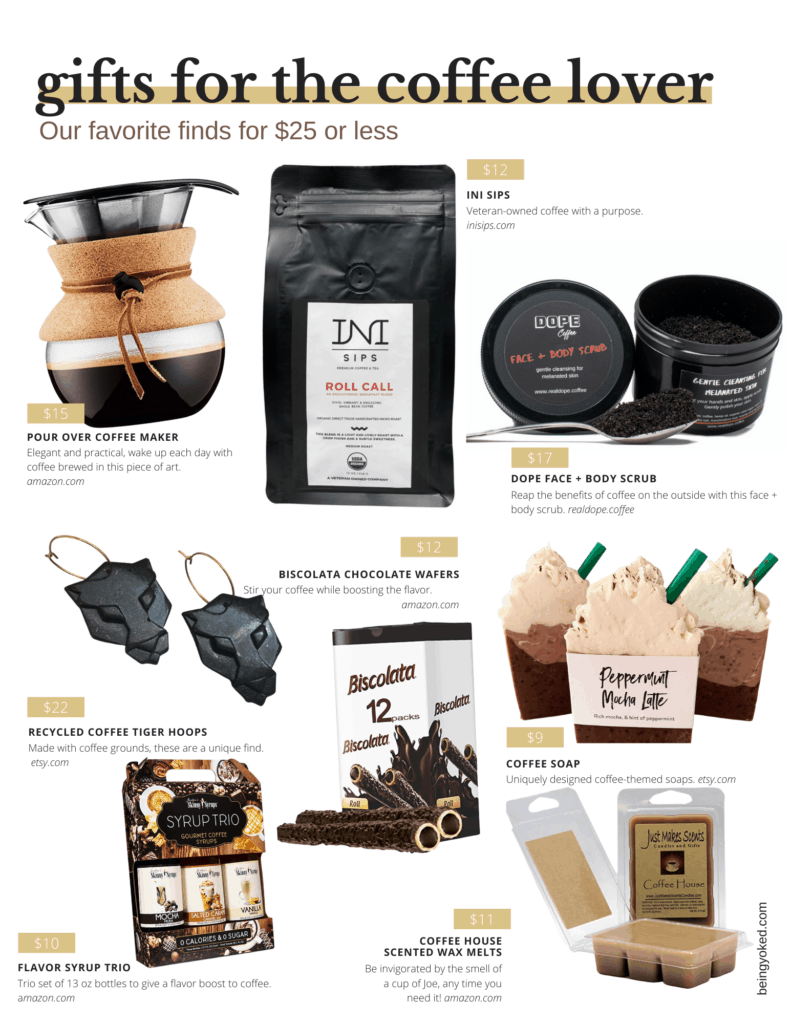 Pour Over Coffee Maker
What a beautifully elegant way to start the day! This pour-over coffee maker is available as a single-serve or multi-cup coffee maker. Find it on Amazon for about the price of 2 cups of Joe at a chain coffee shop. Cost $14.99.
INI Sips Coffee
Proudly Veteran-owned, INI Sips is the coffee you need to get you up and at attention every day. What better way than to start with the Roll Call blend. It's certified organic and can be given as a recurring subscription. If that isn't enough goodness, for every 2 bags you purchase, they donate one bag to First Responders, Healthcare Workers, or Community Workers. Find it and more flavors here. Cost: $12.
Dope Coffee Face + Body Scrub
The Dope Coffee coffee face + body scrub is now the best part of waking up! Coffee is a natural exfoliant for the skin, so a coffee lover will be getting the best of both worlds. Cost: $17.
Recycled Coffee Tiger hoops
Recycling coffee grounds to make jewelry is such a unique way to repurpose coffee! These coffee tiger hoop earrings are a perfect way to show how much you love cats or Wakanda. Made by L'Atelier Cayelle, make sure you get them fast before they sell out! Cost: $13.
Biscolata Dark Chocolate Wafers
These gourmet dark chocolate wafers are made to be a perfect pairing with a hot cup of coffee (or cocoa.) Perfectly sized for dipping, these wafers are a sweet addition to enjoying a warm cup of deliciousness. Find them on Amazon. Cost: $11.99.
Peppermint Mocha Latte Artisan Soap
How cute are these coffee-themed soaps?! Milk & Sugar Soapery has created the most adorable soaps that will make the perfect gift item! Just in time for the holidays, try the Peppermint Mocha Latte scent. Find it here. Cost: $8.99.
Gourmet Coffee Syrups
Enjoy your coffee in 3 different ways with this flavor trio. Jordan's Skinny Syrups: Syrup Trio is a delicious way to flavor coffee without the extra sugar that is in most coffee creamers/flavorings. Cost: $9.99 for the set of 3.
Coffee House Scented Wax Melt
Needing the smell of coffee, but candle burning is not an option? Coffee house scented wax melts are a safer choice and are available here. Cost: $10.99 for a 2 pack.
Must-Have Accessories and a Splurge
Budget-friendly Is always my first resort, but sometimes you really need to splurge on what you want. I recently came across this gem of a mug and just had to tempt you with it: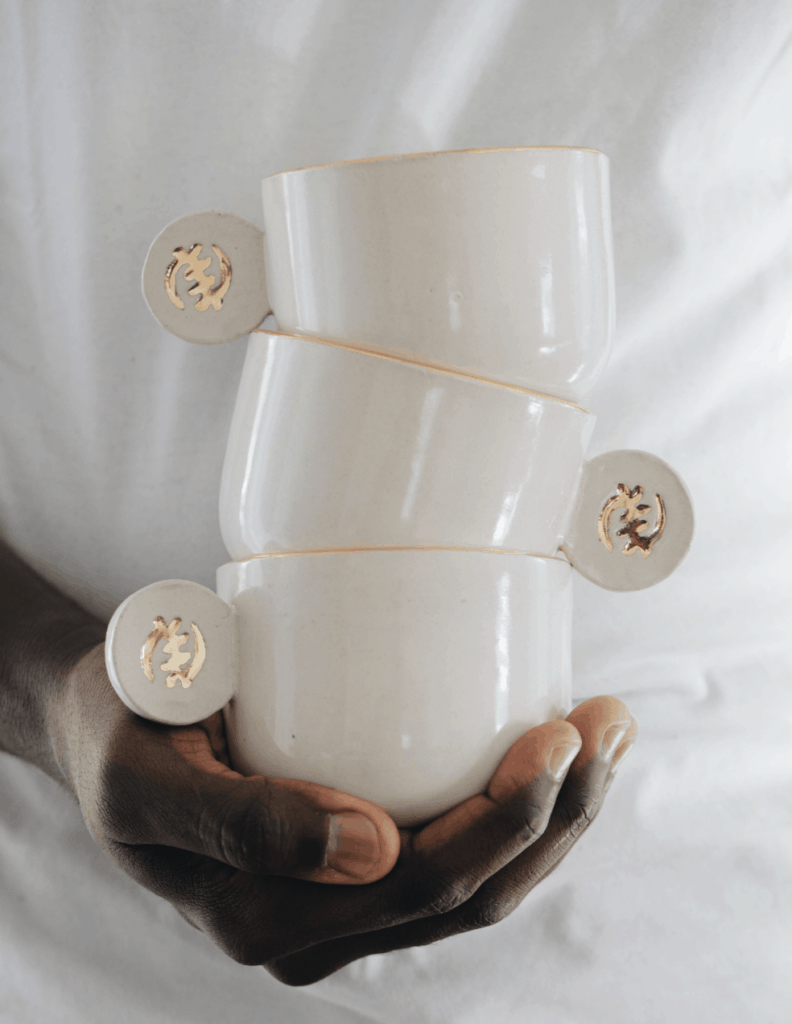 fi:yé gold finish ghanian mug
I recently had the opportunity to participate in a virtual press tour for CLEO TV's New Soul Kitchen. In preparation for the interviews, I researched the chefs on this season's roster. And now, I'm spending money on a gold-laced mug from Africa.
I have no regrets.
And you won't either when you see the look on the face of whomever is lucky enough to own one of these masterpieces.
Chef Bartels' talent doesn't stop in the kitchen, with her Ghanaian fare. She's added art to her repertoire with this beautiful mug. Get one while you can because they sell out FAST. Pre-order at essiespice.com. Cost: $40.
Coffee bean grinder
One of the first-world problems that we have to deal with is finding our favorite coffee in ground form when only whole beans are available! If you or your gift recipient need to grind to get to the goodness, Mr. Coffee has an electric coffee bean grinder that will get the job done. Cost: $17.95.
Reusable Keurig cup filter
Not everyone drinks 8 cups of coffee at a time, like me. Remember to include a reusable K-cup filter with the rest of the coffee-themed gift. That way, they can enjoy as much – or as little – coffee as they like, reducing their carbon footprint in the process. Find them here as a pack of 4. Cost: $10.20.
Got some other ideas that should be included? Let me know in the comments below!
As an Amazon Affiliate, Yoked may earn commissions from qualified purchases through Amazon links. It won't cost you anything extra!