This post contains affiliate links. For more information please view my disclosure policy.
I always have the hardest time picking out a good gift for him…something that's both practical and unique. I will not publicly admit to how many watches he owns, but he's prepared for any occasion.
If you're anything like me, you've waited until the absolute last minute to go Christmas shopping for your significant other! Lucky for both of us, there's Amazon Prime…
To help the process along, I've compiled a few ideas for you to pick a gift according to your partner's love language.
Christmas Love
There are 5 types of love languages. Basically, they tell you how your partner receives love. It's important that you give them love in the way they receive it, not in the way that you want to give it to them. Trust me, it makes a difference.
These gift guides will help you to pick something for them that meets the way they need to be loved.
Christmas Affirmations
This gift guide is for those whose love language is Words of Affirmation. They need to hear how much you love and appreciate them. Tell them with 2 pages of ideas here:
Words of Affirmation Gift Guide-2017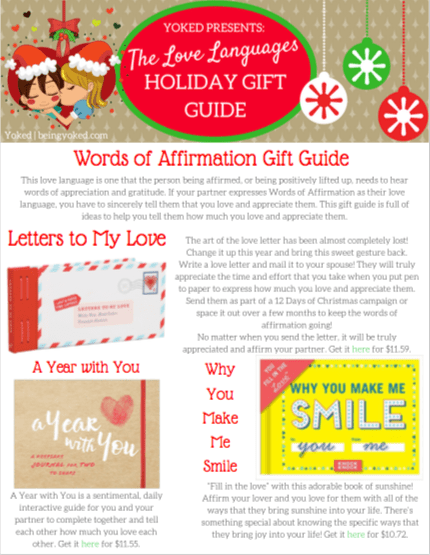 Christmas Touch
This gift guide is for the partner who needs physical touch to feel loved. Sex in marriage is pretty awesome, but don't underestimate the power of intimacy created by physical touch. Peruse two pages of gift ideas here:
Physical Touch Gift Guide-2017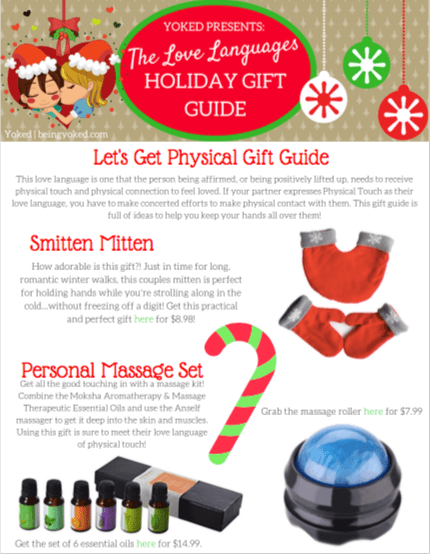 Christmas in Action
This gift guide is for the person whose love language is Acts of Service. These ideas are ways that you can do things for you partner to let them know you love them. The twist is…you get to take the initiative Check out 2 pages of creative action gift ideas for your significant other:
Acts of Service Gift Guide-2018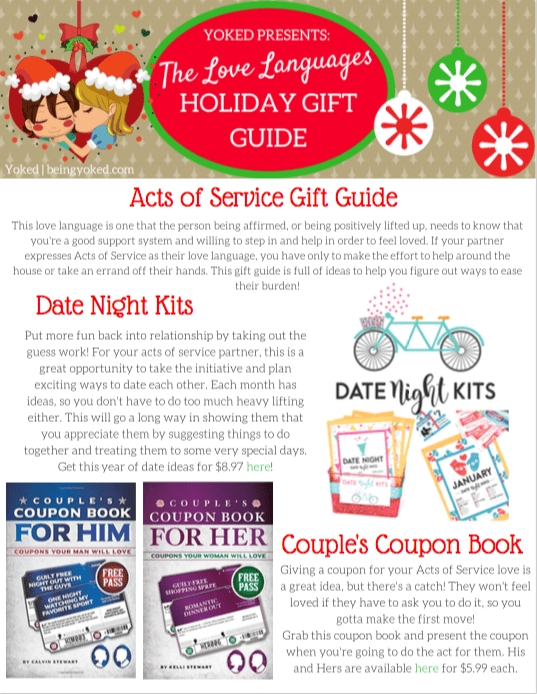 Have lots of shopping fun and Merry Christmas!