Super Maker: Crafting Business on Your Own Terms is a book that I received as part of the launch team for Jaime Schmidt's book, Super Maker. My review of this book is written from my honest impression. Links for purchase included in this review part of the Amazon Affiliates program; it will not cost you any additional fees to purchase through the link. Thank you for supporting this site.
Y'all know that I love to read. Being able to do book reviews allows me an excuse to read and tell you about what I'm reading and why you should too. I have no shame in sharing my inner nerd. Recently, I saw a call for launch team members and I jumped on it. Seemingly random, I have a past that a lot of people don't know about:
I used to be a DIY craft blogger. In fact, for seven years, I created fun party projects, taught others how to recreate events on a budget, and then created designer decorated cookies for clients all over the world. Even though I had the honor of sharing my craft with celebrity names; I put it all down because, though I loved it and thrived mentally and emotionally in crafting, it was not feeding into helping me live out my purpose.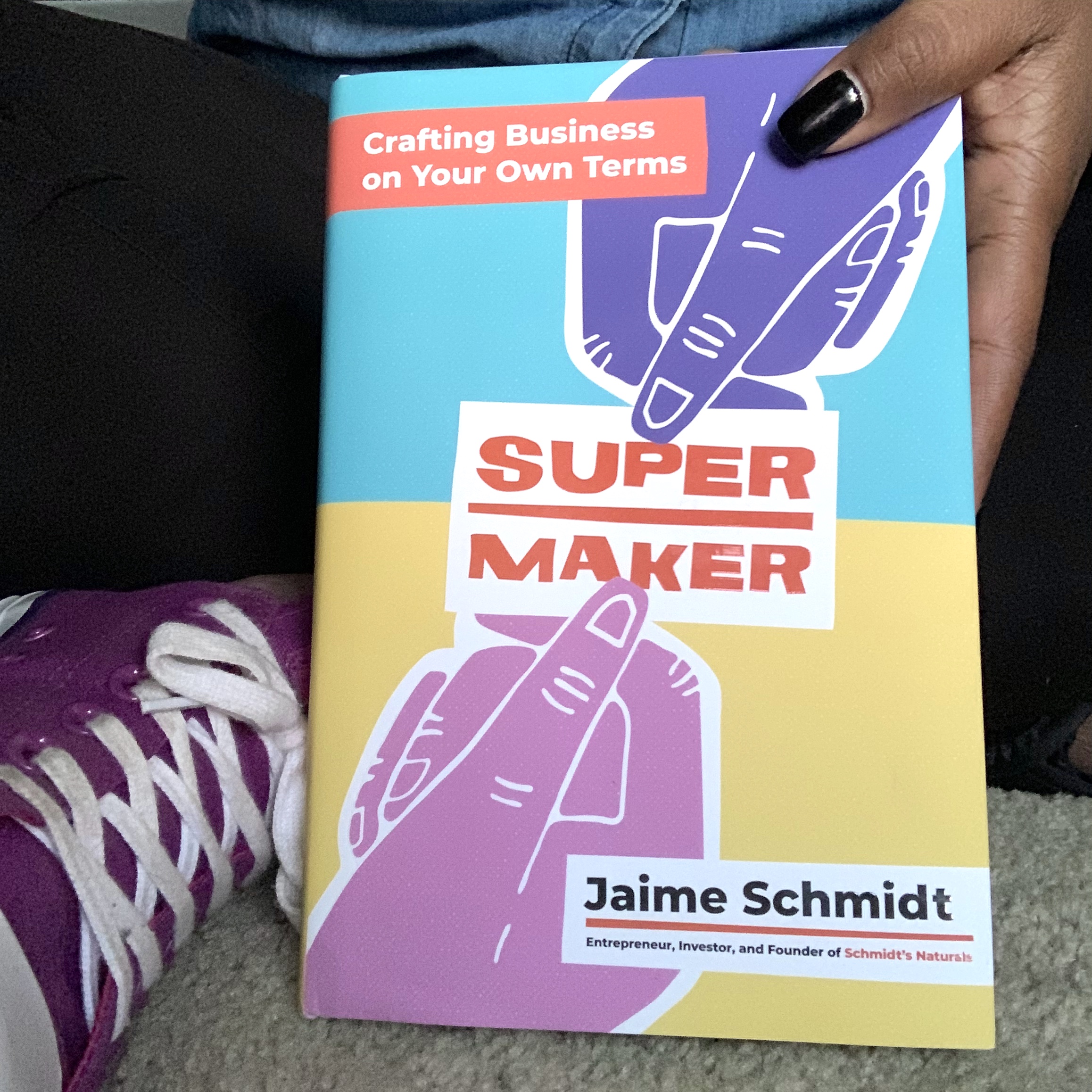 Unexpected Lessons
What I decided was that how I spent the majority of my life needed to fulfill a higher purpose; I didn't want to live a "shallow" life that was all about my gratification. I walked away from a business that I'd spent 7 years building. And, though I'd turned away from it, I still missed the creativity that flowed through my hands. I'd finally decided that I could still share my creativity within the marriage ministry! Wanting to start this new business off on the right foot, I dove into my copy of Super Maker: Crafting Business on Your Own Terms. What I found was not what I was expecting.
At the end of each chapter, Jaime proposes a summary that she dubs "What to make of it." I definitely got much more out of her book than I thought I would. Here's what I made of it:
Zero In to Scale Up
In this particular chapter, Jaime talks about focusing on your niche. As I read through, and fought my own feelings of FOMO, I realized that niching down and focusing on the "why" behind what I do is just as important as doing it. It doesn't have to be about crafting or building a business; in whatever it is that you feel is your path or your calling, you have to be focused.
She notes, "It's true what they say; you can't be everything to everyone." That's true across the spectrum. I've been overwhelmed with trying to reach everyone in my ministry work but afraid that if I focused on one particular subset of people in relationships, that I was failing everyone else. It's not true though. And operating in the mindset that you have to be all things to all people is lending to a Messiah complex.
Mind Your own Business
I'm not the only person on this planet who has a good marriage and a ministry borne out of that. It's not my responsibility to "save" everyone. My responsibility is to reach those I can – who are looking for the guidance I have to offer – and shepherd them.
"Don't get distracted by the competition…"
She mentions that in her process of scouting out the competition, she found that she was losing sleep and saw her focus slipping away. Y'all… If you knew how often I struggle with the sin of comparison and the way that it impedes my work, you would be ashamed of me. It's so easy for all of us to lose sleep and lose focus on our own relationships because we're trying to look over the fence to see how green their grass is over there.
Keep values at the forefront
In teaching her readers about the importance of the foundational work in starting your business, Jaime makes note that business owners keep their values at the forefront. Her point makes me ask the question: What is it that you value the most about your relationship?
I could list off dozens of things that I value about my own relationship. Most importantly, it's the relationship with Christ that my husband helped me to grow. That is what guides me in navigating my own marriage; what Jesus would have me to do is what I fall back on when I don't know that to do.
an open mind opens doors
Two reminders in this particular chapter are things that I have to hold on to every day: to remember that "it's not about perfection, it's about showing up" and to not "…let fear of failure stop you in your tracks." The perception that a lot of ministry leaders seemingly give off is that we have it all together. It's not true…no matter how much they are esteemed or how highly they're regarded.
I've mentioned it before – I struggle with anxiety. Showing up and the fear of failure are my main stumbling blocks. We often let the need for perfection keep us from purpose; it's the same whether our purpose in being walked out in a business or personal relationship. Where are you letting your insecurities keep you from doing all that you're meant to do?
Lean on…someone
In business – and in relationships – we have to remember to let someone help us. The Titus 2 gal…she's our hero. She's a friend and a listening ear. She's the mentor and experienced sister-in-Christ who will guide you along the path of marriage. If you let her.
Business and marriage are interchangeable in the skills that you need to maintain and succeed in it. If you want to have a business, marriage, or ministry that impacts the world, you have to realize that you can't do it alone. You shouldn't try to do it alone.
be a super-maker
All-in-all, I requested a copy of this book because I wanted to start a business on a solid footing, but got much more than I bargained for. I'm both encouraged to start a new business that serves my community and motivated to keep going in the one that I'm already running.
I'm learning how to craft my business on my own terms. And I'm ready for the world to grow from it.
Book title: Super-Maker: Crafting Business on Your Own Terms
Author: Jaime Schmidt, Founder of Schmidt's Naturals
Book Info: Hardcover
Content Length: 279 pages (284 pages in entirety)