This post contains an affiliate link. Clicking on it will not cost you anything extra and will help to support this site.
Congratulations on making it through the sheer chaos that was 2020!
Surviving a pandemic, dealing with injustices, and just the toll of every day life is going to cause a little bit of stress in your life, if it hasn't already.
One thing that I think we may all have in common is that we probably didn't do the best job of taking care of our mental and physical health over the last year.
Maybe it was just me?
Now that the city is starting to open up a little more, I'm being more intentional about taking care of myself. And I'd like to invite you to join me. Read this post about why I decided to start taking self-care staycations.
Now that I've convinced you that this is something you need to do too, read on for some unique opportunities to take your own break away from it all for a little while.
Boutique Hotels for a Self-Care Staycation in Memphis
Photo Credit: www.marriott.com
The Moxy Memphis is the hotel where I participated in my first - and far from last - selfcare staycation! A boutique establishment that shows all of Memphis' "moxy" this hotel is perfectly suited for a party of one!
Read more about my stay here.
Photo Credit: www.hilton.com
The Canopy by Hilton, located in Downtown Memphis, is one of the newest boutique hotels to open up. Centrally located to some of Downtown's most popular locations, you're within walking distance (or a 2 minute Bird flight!) to any activity you'd want to check out. Because it's so close to everything, check Redbird game schedules before booking if you really want some quiet.
If you need convincing, check out Tomiko Harvey, of Passports and Grub, who enjoyed a stay there and has a convincing case for giving them a solo staycation try! In addition to being a great place to stay, delicious world-class foot is downstairs at Curfew Memphis.
Photo Credit: hotelnapoleonmemphis.com
Hotel Napoleon not only a beautifully historic place to stay but a wonderland for history buffs. Formerly the publication location of The Memphis Press Scimtar, a local newspaper distributed well into the 20th century, this boutique hotel is stunning in its architechtural and modern accomodations.
Photo Credit: www.ihg.com
Hotel Indigo is retro boutique done right! Appearing to be straight out of your favorite 60s Hollywood scene, this hotel features a pool, jukebox that plays Memphis' greatest hits, and is within walking distance of sites, sounds, and eats.
Photo Credit: arrivehotels.com
Arrive to your selfcare staycation at...ARRIVE! Pun intended.
This boutique hotel features room sized from Studio to Corner Loft, and every option gives you plenty of room to stretch out in your own space. You'll find luxury robes and an in-room mini fridge for getting your favorite wine just as chill as you'll be.
Emphasizng the "stay" in staycation, this boutique hotel presents you with the option of Hustle and Dough Bakery, Longshot Restaurant, and Bar Hustle for a nightcap.
Photo Credit: centralstationmemphis.com
Converted from a former train station, this hotel is as boutique as they come! Made to cater to music lovers and travelers alike, take the opportunity to take it easy in the Big Easy; this is also the hub for catching a train to New Orleans.
Taking the concept of dating yourself with dinner and a movie, Central Station offers a dining experience at the Bishop restaurant, drinks at Eight & Sand Bar, and venture a few steps away to catch a showing of a new release at the Malco Theater next door.
Photo Credit: huhotelmemphis.com
Hu. Hotel is a boutique hotel as visionary as its founder. In addition to being an establishment that is all about honoring the forward-thinking culture that was inspired by a legendary Memphian, Hu. collaborates with some of Memphis' most inspiring entrepreneurs to provide an experience not soon to be forgotten.
*Relaunching July 2021
Take Your Self-care Staycation to the Nearest Spa
Maybe it's just me, but a great day of relaxation includes getting a massage and pampering. While these locations don't offer services onsite, you're not that far from winding down and getting a spa treatment.
Downtown Memphis Spa Options
Photo Credit: Camille Brodard on Unsplash
Conveniently located within walking distance of The Moxy Memphis, the Memphis Salon Spa offers full hair salon styling services as well as aroma massage, an exfoliating body polish treatment, and much more.
Photo Credit: relaxh2ospa.com
One of the best massages I've ever had was a hydromassage and you can experience it too! Relax H20 Spa offers this amazing service, along with an oxygen bar, sauna, and massage chairs.
Photo Credit: www.harbortownspa.com
Harbor Town DaySpa and Wellness Center is conveniently located in a 5 minute drive from the center of Downtown Memphis. You can easily book an appointment to get a massage, manicure, pedicure, or wellness consultation.
If you don't feel like leaving your room, you don't have to miss out! They will bring their services right to your room!
All-In-One Staycation Options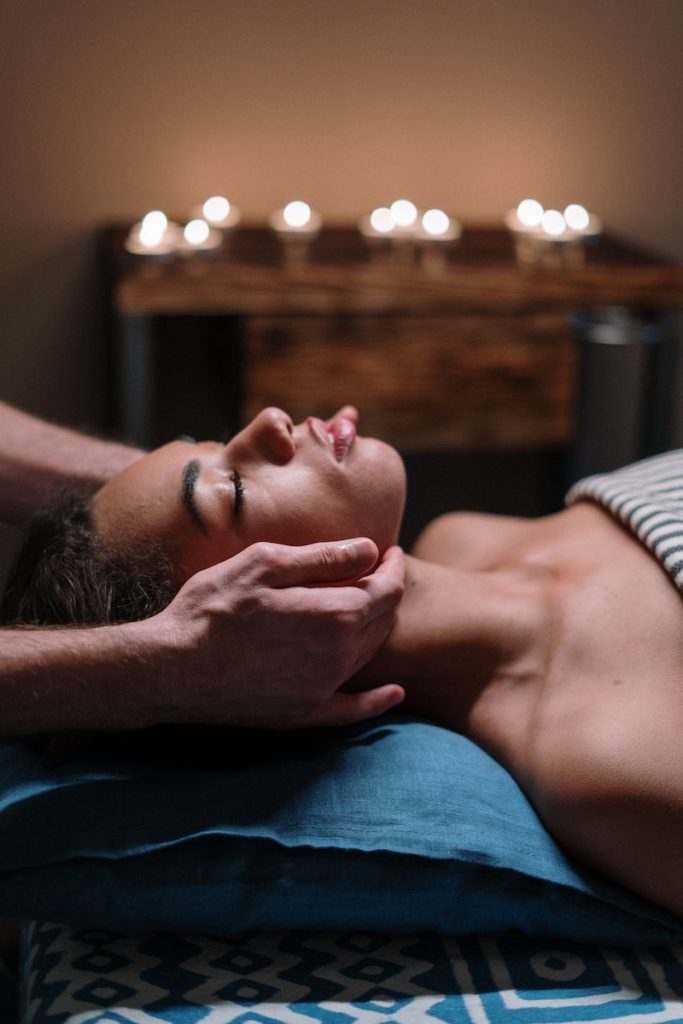 The Peabody Memphis
A long-standing staple of Memphis culture, The Peabody Hotel is located in Downtown Memphis. Located at the corner of Third St and Union Ave, this hotel has been renovated with modern needs in mind. One of the amenities they boast is perfect for a self-care staycation: Feathers Spa. A massage, facial, or mani/pedi are just the tip of the iceberg; there are so many different options for you to pamper yourself. Bring in room service and a room cozy enough for one…you're well on your way to a stay that's all about what you need to take care of you!
Their coziest room is a Traditional Queen and books for about $179/night. Learn more here; this price does not include room service or spa treatments. If you'd like to prebook with breakfast or cocktail options, check out the packages that they offer.
As COVID restrictions are being loosened, it won't be too long before the Rooftop Parties are back in full-swing. Happening during the warmer months of the year, keep this weekly event in mind if you want peace and quiet. The parties happen every Thursday, weather permitting.
Big Cypress Lodge
I'll be the first to admit that this hotel, located within Ducks Unlimited, is not a place I would think of as an option for a self-care staycation. The store/entertainment complex boasts crowds, bowling alleys, and both gun and arrow shooting ranges; the latter two are incredible stress relievers.
The hidden retreat they have on the upper levels – away from the chaos of their patrons – is the Big Cypress Lodge. With their Interior Queen and King rooms starting at $210/night, (Exterior rooms start at $190/night) you can settle in to all of the space you need for yourself. To wind down and relax, there is a deep spa tub in each bathroom. BYO(wine, candles, bath bomb) is my suggestion. There is also the Day Spa by Gould's where you can book a massage, facial, or mani/pedi.
As a reminder, once you check in, everything that you would need for your self-care staycation is within reach. There are bars and restaurants onsite and plenty of activities to do, if you so choose. If total seclusion is the goal, sit back and enjoy the TV or peaceful views of the Mississippi River, right from your room. Learn more and book your stay here.
How to Save a Few Dollars on Your Self-care Staycation
If you're like me, I sometimes have some champagne dreams on a sparkling cider budget…
Don't let a tight budget stop you from taking care of yourself. Self-care is so important. Almost all of the hotels that are shared in this article come with a price tag under $150. There are also 3rd party booking sites that will help you to find better deal on the room than what might be found on the site.
One option that I use is Rakuten. Have you heard of them? They are a rebate site that, when shopping through them, will give you cash back on your purchases. Log into your account and search for the hotel you'd like to book. If it is available, click the link to shop and you will receive cash back after your stay is complete! It's free to sign up for the service.