Kwanzaa is an African American celebration of community, family, and culture that helps us to reconnect with our African roots. With 2019 being declared the Year of Return in Ghana, celebrating Kwanzaa this year is all the more special for our community.
Centered around family and community, Kwanzaa is celebrated every year from December 26th – January 1st.. There are 7 days in the celebration of Kwanzaa:
Umoja (Unity)
Kujichagulia (Self-Determination)
Ujima (Collective Work and Responsibility)
Ujamaa (Cooperative Economics)
Nia (Purpose)
Kuumba (Creativity)
Imani (Faith)
The second day of Kwanzaa brings us to Kujichagulia.
What does Kujichagulia mean?
When I first learned about Kwanzaa in high school, this was my favorite day because I'd mastered how to say it. However, I didn't really give much thought to its meaning.
Jeremiah 1:5 says "Before I formed you in the womb I knew you, and before you were born I consecrated you; I appointed you a prophet to the nations."
Kujichagulia is the principle of self-determination. Precisely explained, it translates "to define ourselves, name ourselves, create for ourselves, and speak for ourselves."
Who we are directly correlates to who we become. Who we become
The Trap of Self-Sabotage
Let me get real for a moment. This ministry is my passion. There were a lot of tears and heartbreak that went into preparing me to share this message with the world. Even with publishing a book and taking the ministry into a whole new territory, I still fight a lot of self-doubt. Logically, I know what I'm meant to do, but emotionally, I often find myself in a holding pattern of fear and insecurity.
Consequently, I sometimes lack self-determination.
There is still a place where I am afraid that I don't deserve to speak to the world. Sometimes, I slip back into that place. Eventually, I realize that I'm no good to anyone there. I'm not sharing the message that's in my heart. Then I realize that all I went through is going to be for nothing.
No matter what you've been through, where you are, or where you think you want to go, you need to apply the principle of Kujichagulia. It's amazing to have a support system in your purpose. But regardless, you need to move forward and rely on yourself. You need to be determined to be the change in your own world.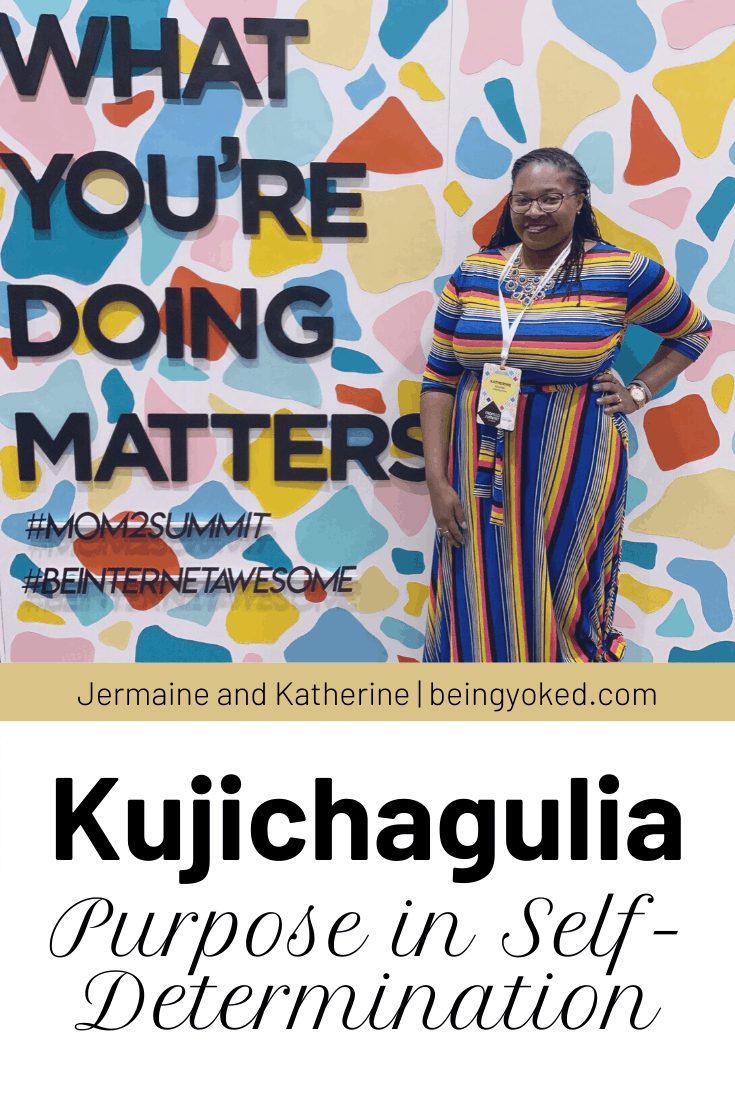 This is what I want to share with you:
3 reasons to exercise self-determination
You have a purpose in this world. Proverbs 20:5a tells us, "The purposes of a person's heart are deep waters,…" Do you know what your purpose is in life? When you know who you are and what your purpose is, you can be proud of who yourself and of what you give to others. Ephesians 2:10 tells us that "For we are His workmanship, created in Christ Jesus for good works…that we should walk in them." The principle of self-determination is that we encourage ourselves to do and be all that is intended for us.
You matter. To yourself, your Creator, and to the world. Dr. Seuss quipped "To the world you may be one person; but to one person you may be the world." It's tempting to think that if our audience isn't big enough, then we don't matter. LIES. Change happens one person at a time. Don't give up your power and purpose thinking that you're not making a large enough impact.
You have all the joy you need. Don't confuse joy and happiness. Happiness is an emotion. Joy is a state of being. When you have joy, you can still have hope and faith, no matter what comes your way. You hold onto your purpose and live in it. Romans 15:13 sums it up beautifully, stating, "

May the God of hope fill you with all joy and peace as you trust in Him, so that you may overflow with hope by the power of the Holy Spirit." Hold your head high, walk forward in your purpose, and count it all joy!
---
Need a way to make this practical? Click here for the Principles of Kwanzaa for a Beautiful Relationship Workbook; you can use it to work through simple, applicable exercises each day of the celebration.