We've had lots of conversations about generational curses + what they look like today. I had a lot of them myself + when I met my husband, I knew that I had to break them. More for myself than for him, I knew that I needed to be a better person + walk away from everything that was broken in my life.
The biggest thing that helped me to heal what was broken in my life was the realization that something was broken in my life. I'm far from perfect + will always be improving on myself, but I had to take the steps to do what needed to be done. I acknowledge that my family's generational curse is going to look a little different than the next person's.
The ones I had to break were the feelings + emotions that I'm unattractive, not funny, too fat, unappreciated, worthless, unworthy of love + less than. Despite being smart, popular + friendly, my self-esteem was in the trash. I was being used by people, taken advantage of, all because I needed to feel loved. I didn't know that I was broken, but I was. I finally reached a point in my life where I knew that bandaids were no longer going to cover the wounds festering in my spirit.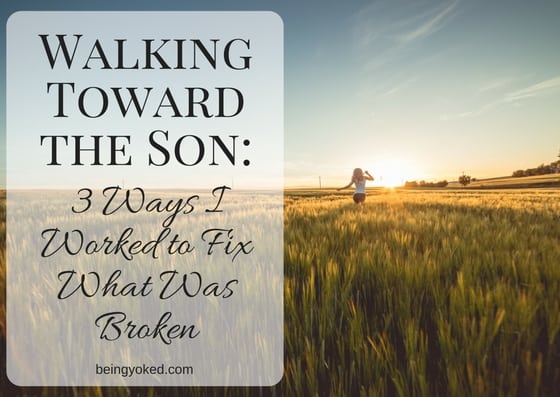 3 Ways I Worked to Fix What Was Broken
I re-evaluated my relationship with self + Christ. Years ago, I left the church. I'd had lots of negative experiences with preachers + people in the church. I finally got fed up + walked away. I stayed away for about 2 years. I missed God. I tried to do the whole lone Christian thing, but it wasn't working for me. I've always told people that the enemy will find ways to separate you from God + that he almost always works through other people. I forgot my own words. I had to come to the realization that my only responsibility was to that of my Creator + that I couldn't let the negative actions of others dictate my relationship with Him; I had to get back home. I wasn't quite prodigal but I did have to make a 180.
I went to therapy. This wasn't something that was ever discussed in my household or my community. It wasn't an easy decision for me to make, but I convinced myself that it was ok because a therapist is just having an impartial party to listen to you. It's not about being "labeled" even though I did learn a lot about myself. It helped me to work out why I was doing a lot of the things that I did…it turns out that I was still dealing with the trauma of my emotionally abusive relationships. I didn't realize there were psychological issues that were manifesting physically in my life, but once I did, I got the chance to make some changes. It's funny how my life continues to change. I went from being a person who never considered therapy, to someone who needed therapy, to marrying someone who discovered his gift was being a therapist…to taking classes to become certified in ministerial counseling. I say this without reservation: if you need someone to talk to, consider seeking professional guidance.
I made a commitment to myself. Not so much like a resolution, but definitely a promise, because I don't think there's a resolution I've managed to keep yet… I re-commited myself to Christ. I made the decision that I was going to put my hope + faith in God. I made the commitment to rebuild my spiritual relationship because I realized that it was designed to be the foundation of who I was as a uniquely created being. There are lots of ways to rebuild this precious relationship. Devotionals are a great way to start. Prayer + meditation are essential. Consistency is key; you have to spend dedicated time in Scripture + in worshipful devotion to keep going on this new path. A concerted effort has to be made to move forward in your life + purpose.
Making a change is certainly easier said than done but it can be done. You can absolutely fix what's broken. It won't be an easy road; the enemy doesn't want you to be healed. But if you walk toward the Son, you can surely live in the light.