Some of these books may be linked through an affiliate program. Any purchase made will not cost you anything more than what you paid. A portion of your purchase will go toward helping to continue in sharing the ministry of marriage.
This is a list of books in my personal library. There are many more out there but these are the ones that I own and have read. Enjoy!
Am I The One? Clues to Finding and Becoming a Person Worth Marrying
by James R. Lucas
This book was written for teens and young adults who are still trying to figure out who they are and who they want to be. It's still valuable for adults who are looking to find the person who they want to marry, in that it helps to guide them through the characteristics they need to develop in order to be a person worthy of marriage. You can find it here.
The Marriage Planner™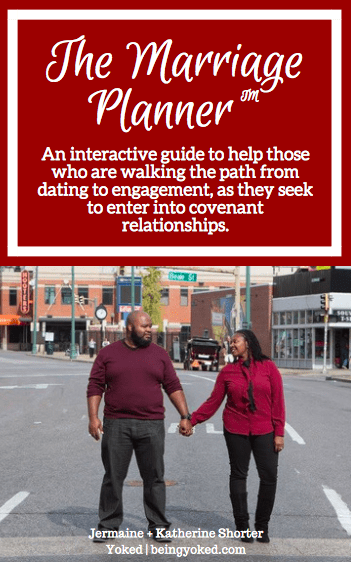 by Jermaine and Katherine Shorter
This interactive guide was written for those who are dating and looking to be engaged. It's a proven method to help couples walk through some of the issues that will come up in marriage and to help them work through those issue before they are engaged. Including people who you trust to help guide you through what to expect when you become husband and wife, The Marriage Planner™ is the essential guide to helping you decide if you are equally yoked. You may find it here.